by hoka and YG Studios
Shakeout run & yoga
Sign up for the ultimate preparation for the NN Marathon Rotterdam. On Saturday April 15, HOKA the lead sponsor of the NN Marathon Rotterdam and YG Studios host a shakeout run & yoga session.

Although resting is important the day before a race, runners who run before a race, race better. The goal is to have your muscles feel loose and mobile going into the race. It helps to calm your nerves and boost your confidence without wearing you out. Making you ready to cross that finish line the day after.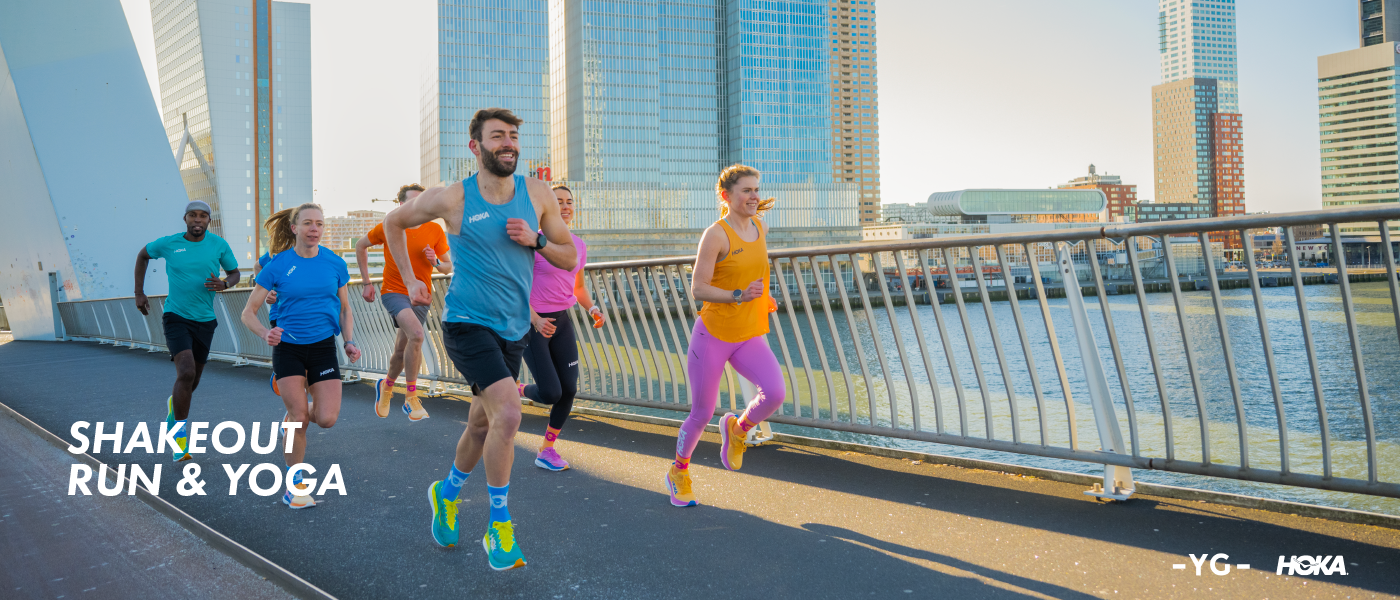 prepare for nn rotterdam marathon
Get ready, set, go!
We start Saturday at 13.00 with a warm-up at YG Lijnbaan, collectively we'll do a low intensity run to Hotel New York, guided by HOKA running coach Liselotte, followed by a yoga session taught by Veronique. You'll feel stretch, strength and mobility around your hamstrings, quads and hip flexors. 
Around 14.30 we will be back at YG Lijnbaan for some healthy snacks and drinks, wishing each other all the success for next day's marathon. 
Suitable for all runners who join the NN Marathon Rotterdam.
Shakeout Run & Yoga
Free sign-up, via button below.
Need help? Send us an email – hey@ygstudios.nl  
Stay up to date, follow your favorite sports studio in Rotterdam Centre on Instagram, Facebook or subscribe to our mailing list.

free sign-up
Agenda / Events
Workshop
Roll, Release and Relax
Flex & myofascial release
YG Studios Lijnbaan
Saturday October 7
14.00 - 16.00
by Camilla
€35 | €31,50 unlimited members
Workshop
Handstand foundations
by Andrés Cerdeira
YG Studios Lijnbaan
Saturday October 28
14.00 - 16.30
by Andrés Cerdeira
€45 | €40,50 unlimited members
Workshop
Handstand evolution
by Andrés cerdeira
YG Studios Lijnbaan
Sunday October 29
12.30 - 15.00
by Andrés Cerdeira
€45 | €40,50 unlimited members
All Events