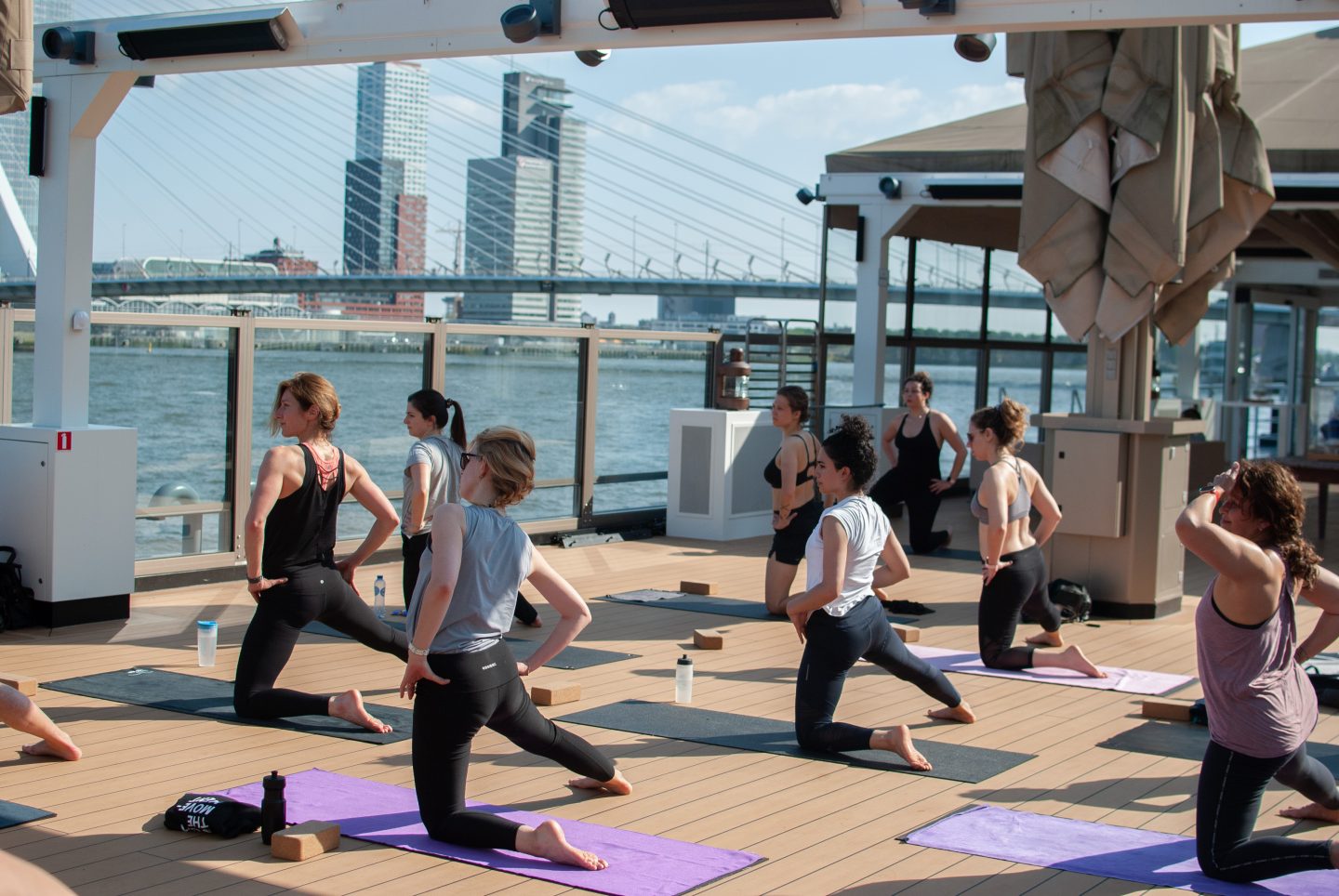 YOGA ON BOARD
Have you read the news?
Yoga on board
In de buurt Rotterdam and  AD Weekend wrote about our latest temporary Open Air Yoga location. Get ready for Yoga on board and read all about it below!
AD Weekend  – Yoga on board
A new destination has been found for the Kooren Terminal; it will be a yoga boat on the Nieuwe Maas. This summer, yoga school Yogaground will teach classes in the open air on board of the Kooren Terminal at the Boompjeskade. Yogaground finds it the perfect place for outdoor yoga while keeping you at a safe 1.5 meter distance.
When you happen to have an AD account you can read it here
In de buurt – Yoga on board
In the summer of 2021 you could do yoga with a view of the skyline! What will we have in store for you next summer 2022?
Salutations to the sun with a view over the Erasmus Bridge and take a look at Willemsbrug after your savasana; it was all possible last summer. Yogaground will offered two lessons a day in July, August and September on a pontoon located at Boompjeskade 123.
The studio had entered into a partnership with Kooren Terminal.
Rain or shine – yoga on a boat
Rain or shine; it does not matter. Outdoor classes always continue. The pontoon can be covered with large umbrellas if necessary. Yogaground owns two locations in Rotterdam and this temporary summer location is an extra.  The pontoon can be found at Boompjeskade 123, right opposite the Flag Parade. Find our current schedule here.
Read the full article here.
Stay up to date, follow your favorite Yogastudio in Rotterdam Centrum on Instagram, Facebook or subscribe to our mailing list.