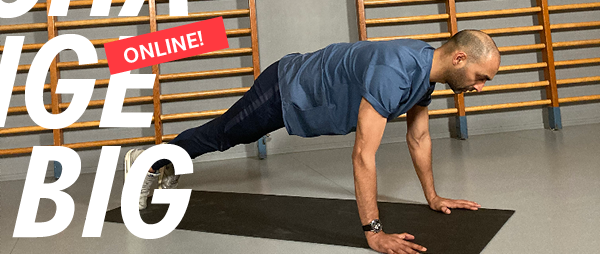 The Big Challenge
Is this a burpee workout?
Basiet found some creative ways to manipulate your work-rest ratio in this challenge. He will take you through a 40-minute workout including a good warm-up and cool-down. Get ready to give it your all in the middle section of the routine, which will contain just 1 break. Is this a Burpee workout? Find out together with Basiet upcoming Saturday at 11 AM on InstaLive!
After a 5- to 10-minute warm-up, it's time to focus on your strength. We'll do 2 rounds with just 4 exercises for 9 minutes without any break! No worries, we know you've got this. Alternating every 40 seconds with 20 seconds of Burpees. Is this a Burpee workout? After a short and deserved break you'll begin with the next set. Work 5 exercises for 3 rounds, for 8 minutes straight.  Again without a break in the middle. It's every minute on the minute, prepare to sweat in this full body workout!
• W H E N •
Saturday March 20, 11 AM – FREE ACCESS VIA INSTA LIVE
• W H A T •
Get ready to sweat for this Is this a Burpee workout? Yes it is! Get your weights, water bottles or whatever you have 2 items of ready.
Any questions or need help? Send us an email – hey@yogaground.nl   
Stay up to date, follow your favorite Yogastudio in Rotterdam Centrum on Instagram, Facebook or subscribe to our mailing list. 
https://www.instagram.com/yogaground/?hl=nl